Product Description
The Sidekick Retractable Keychain & Badge Reel is small but mighty and capable of holding up to 6 keys and a badge, making the Sidekick one of the top selling retractable badge reels among working professionals. Built in the USA with globally sourced materials, the Sidekick has a strong molded black polycarbonate case and a retractable cord made with DuPont™ Kevlar® fiber. Attach your keys and badge to the twist-free end fitting and secure the carabiner to your belt clip, work vest or backpack. When you need your keys just pull them out, when your done let them go and the built-in tether retracts back into place until you need them again. When you're looking for an all-in-one everyday carry companion to secure your keys and badge the Sidekick is your best option.
Features and Benefits
Standard Duty retraction force holds up to 4 oz. and has a 24" reach
Built in the USA with globally sourced materials and proven to last more than 1-million pulls
Heavy Duty aramid fiber cord with an 80 lb. minimum breaking strength
Protected by a 1-Year Limited Warranty and Lifetime Service Policy
Twist-Free end fitting with split ring secures keys and an I.D. Badge
Zinc alloy carabiner conveniently clips onto belt loops, bags or purses
Stainless Steel Spring in a 1-3/8" diameter black polycarbonate case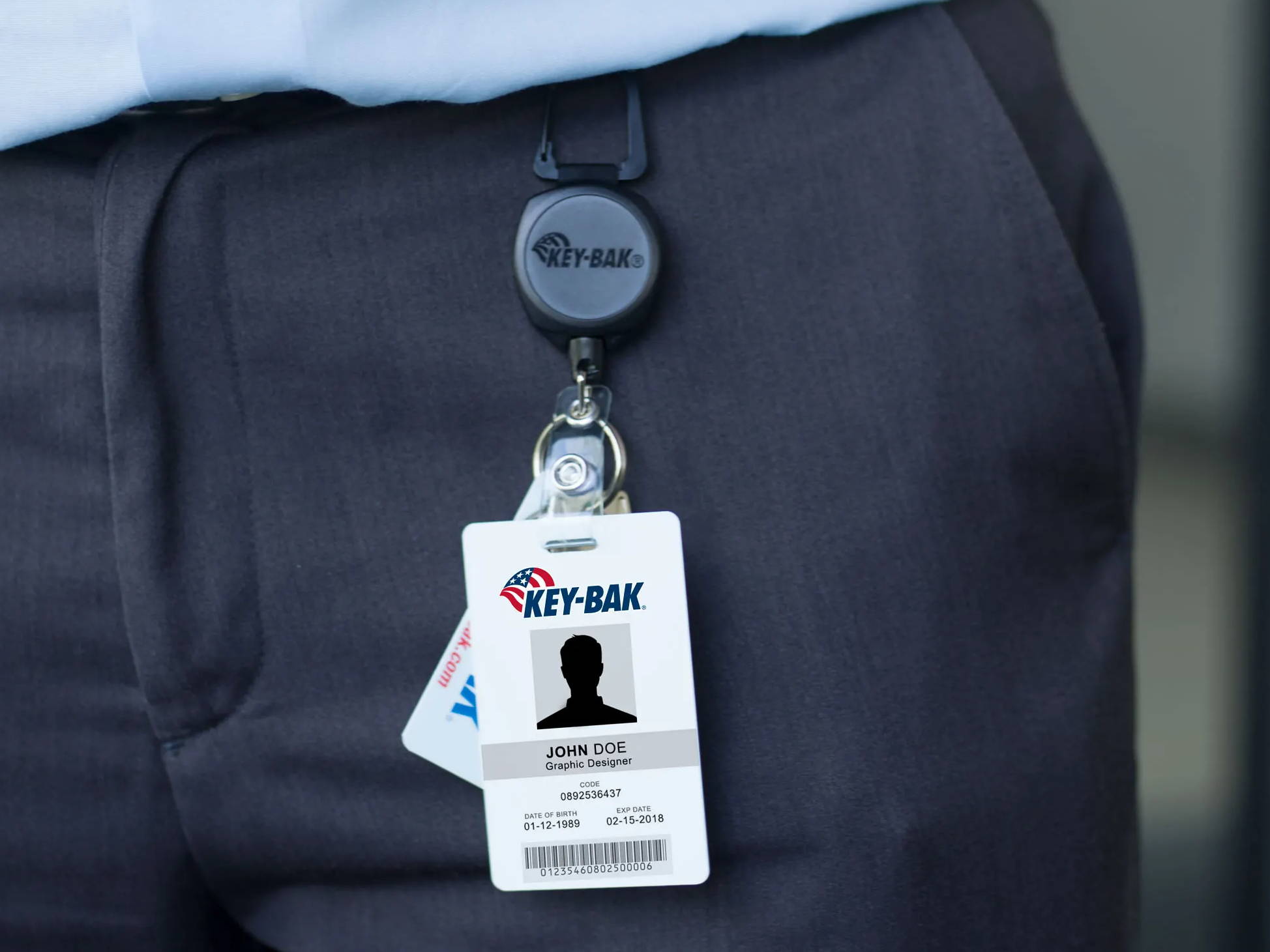 Twist-free end fitting
The Sidekick's polycarbonate twist-free end fitting keeps your I.D. badge from flipping so it's always forward facing and easily identifiable.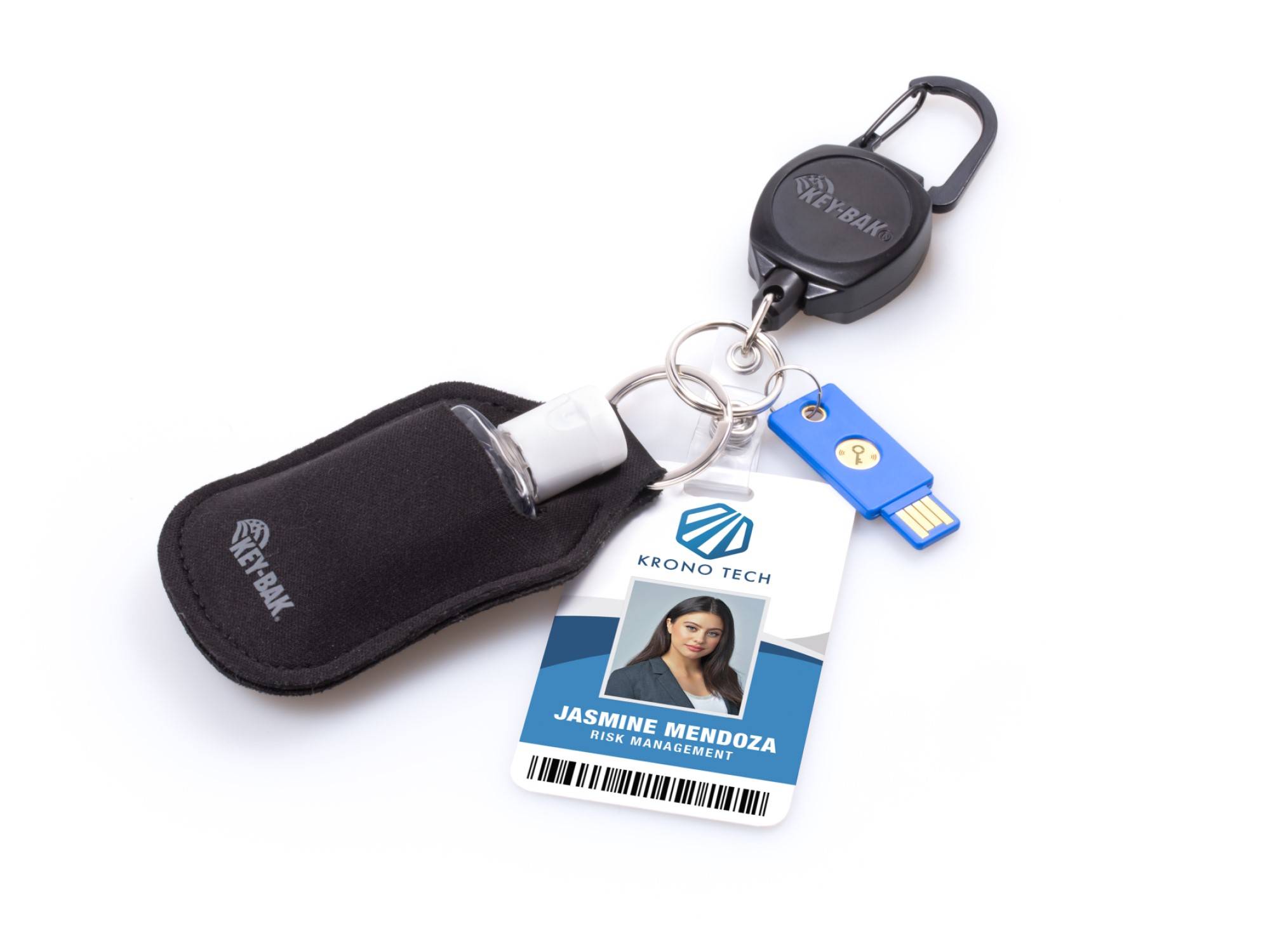 HAND SANITIZER CARRIER
Upgrade your Sidekick to include the Hand Sanitizer Carrier. Paired with KEY-BAK retractable keychains, the Hand Sanitizer Carrier keeps hand sanitizer secure & accessible at all times and can fit nearly any shaped bottle up to 2 oz.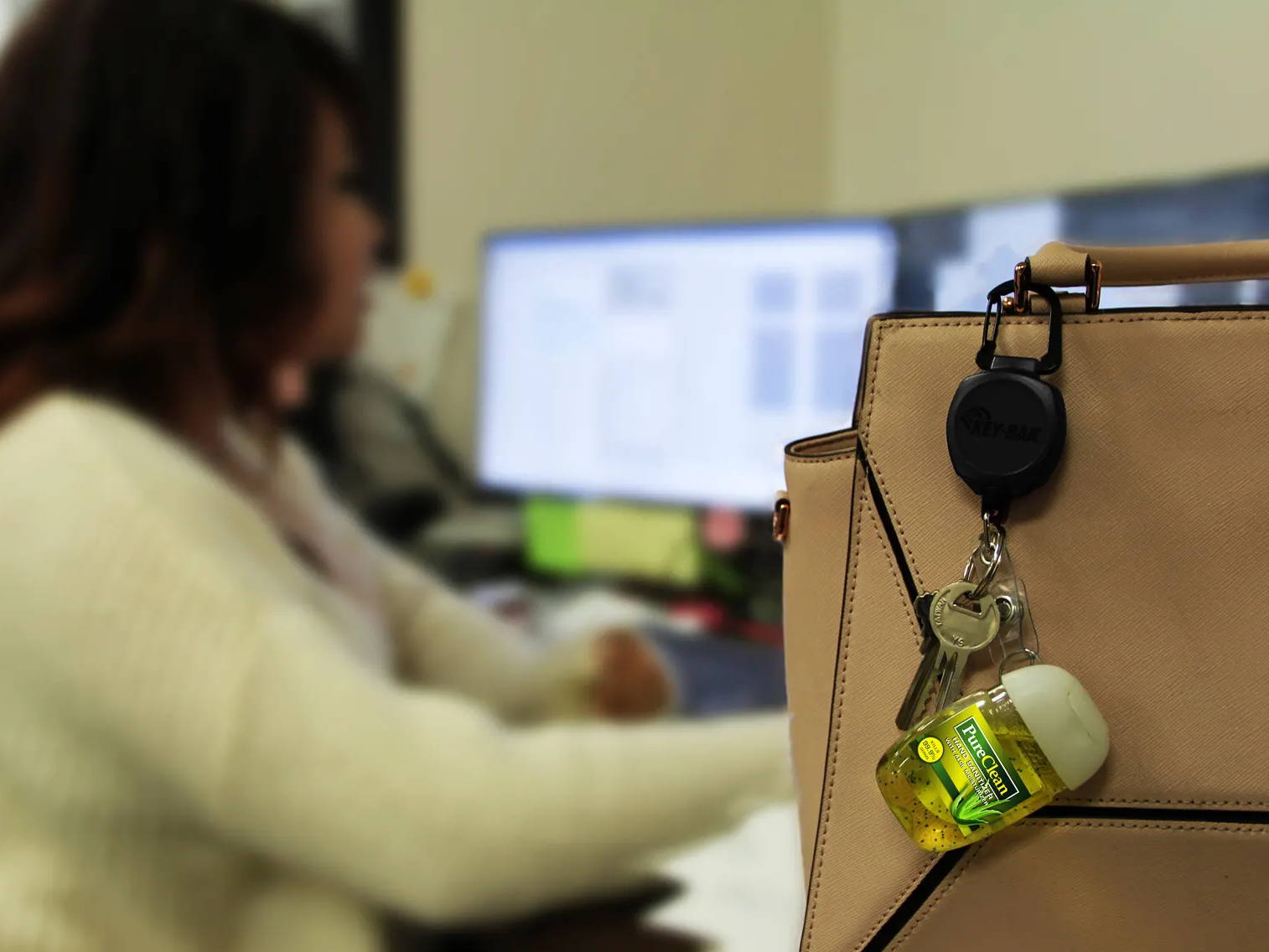 KEYS & BADGE companion
The Sidekick can hold up to 5 keys and a badge, making it the perfect everyday carry companion for working professionals.
How long does thE SIDEKICK reach?
The Sidekicks' retractable cord has a 24" inch reach when fully extended.
What is the retractable cord ON THE SIDEKICK made out of?
The Sidekick's heavy duty retractable cord is made with DuPont™ Kevlar® fiber and has an 80 lb. minimum breaking strength.
How do you attach the badges to the sidekick?
The Sidekick has a Split Ring and Vinyl I.D. Badge Strap. The vinyl i.d. badge fits through an opening commonly found at the top of most i.d. badges snaps closed to secure the badge to the reel. If your i.d. badge does not have an opening to put the vinyl i.d. badge strap through you'll need to use an i.d. badge sleeve to secure your badge to the Sidekick reel.
Is the sidekick made in the USA?
The Sidekick is designed and built with globally sourced materials at our factory in Ontario, CA.
What is the total length of the sidekick?
The Sidekick is 5 inches in length from the top of the carabiner to the bottom of the vinyl i.d. badge strap. The body of the Sidekick is 1-3/8 inches wide and 1/2 inch thick.
WHAT CUSTOMERS ARE SAYING
It works
Having little time to use this device, I scarcely feel qualified to remark on the quality. I like it. There were parts attached which did not suit my use, but these were easily removed and I adapted it to my purpose.
Key Bak for my coworker
He loved it, and I love my old one too!
Great keychain, does exactly what I needed
I purchased this retractable keychain for my gate keys and badge for my construction site. I've used the cheap novelty retractables that only last for a few weeks/months. This seems to be built really well and so far has held up. I would buy another one.
High quality
Product is as described, shipped fast and feels to be of high quality for years of service.
Great product!
Exactly what I needed for my coworker and myself! Love Keybak products!!
Key and ID carabiner
It is quality. I pulled the string out a few times to try it out and it snaps back real nice and smooth. The clip on it has a solid spring that feels like it will not come unlatched while I move around during work.
Men Beware
IF YOU HAVE A KEY/BADGE ON THIS AND JUST LET IT GO AFTER YOU USE IT, IT WILL DESTROY YOUR NUTS. (learned this the hard way) Other than that, excellent product.10/10 would recommend.
Awesome Product
The I'd/ key tags for badges are awesome. They are very sturdy and I love them.
A Definite Buy
Holy crap this is a nice badge leash. Super heavy duty cord and snaps back like it's mad at you. It's good enough that I've felt the need to show it off to my friends at work. Highly recommended.