Product Description
The Sidekick Retractable Keychain & Badge Reel is small but mighty and capable of holding up to 5 keys and a badge, making the Sidekick one of the top selling retractable badge reels among working professionals. Built in the USA with globally sourced materials, the Sidekick has a strong molded black polycarbonate case and a retractable cord made with DuPont™ Kevlar® fiber. Attach your keys and badge to the twist-free end fitting and secure the carabiner to your belt clip, work vest or backpack. When you need your keys just pull them out, when your done let them go and the built-in tether retracts back into place until you need them again. When you're looking for an all-in-one everyday carry companion to secure your keys and badge the Sidekick is your best option.
Features and Benefits
Lasts up to 10x longer and protected by a 1-Year warranty

 

Made in the USA with globally sourced materials.

 

KEY-BAK ECO-REELS produce 90% less waste than disposable reels, keychains, and tethers

 

Standard Duty retraction force holds up to 4 oz. and has a 24" reach
Heavy Duty aramid fiber cord with an 80 lb. minimum breaking strength
Twist-Free end fitting with split ring secures keys and an I.D. Badge
Zinc alloy carabiner conveniently clips onto belt loops, bags or purses
Stainless Steel Spring in a 1-3/8" diameter black polycarbonate case

Backed by a Lifetime Service Policy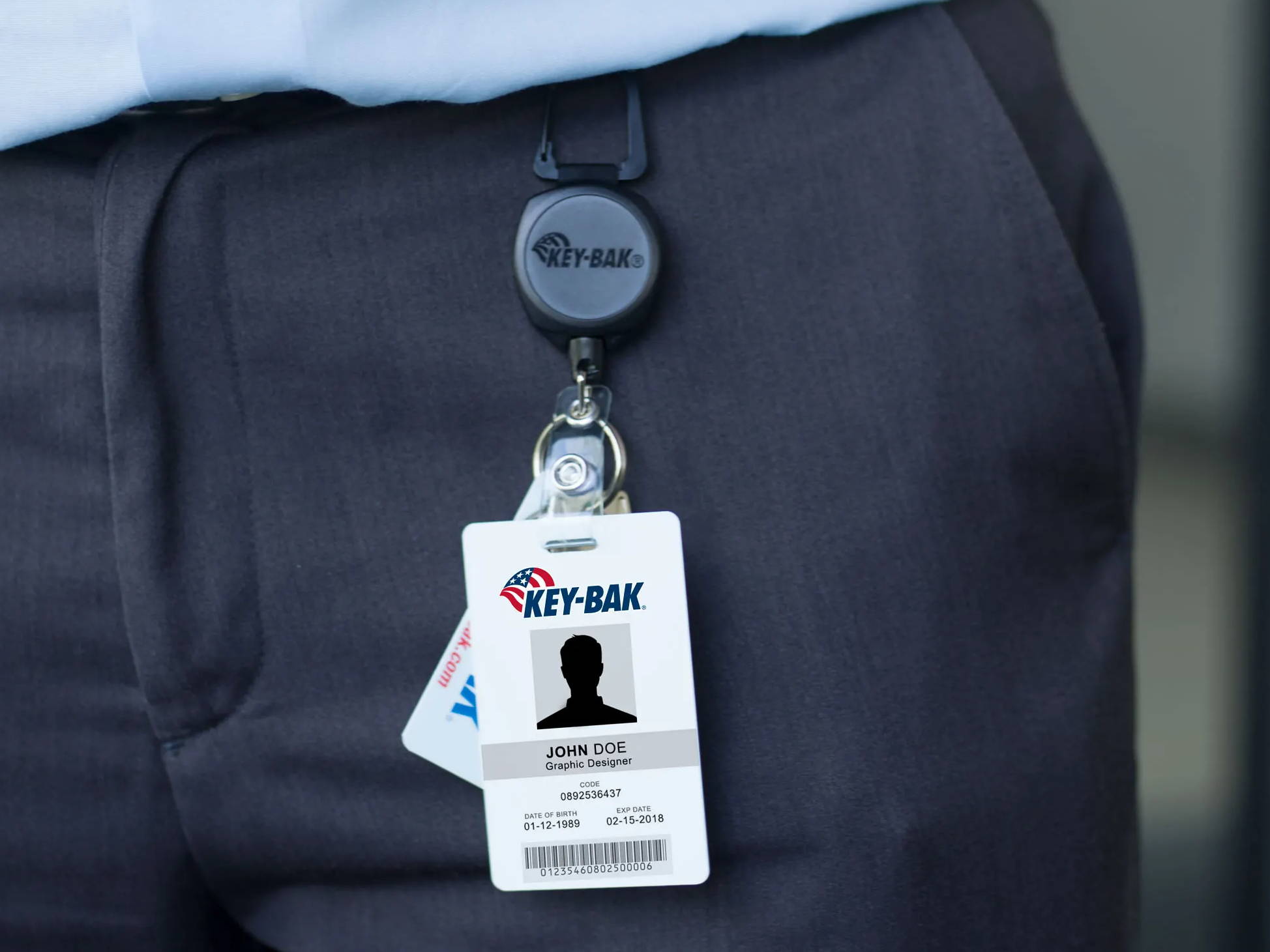 Twist-free end fitting
The Sidekick's polycarbonate twist-free end fitting keeps your I.D. badge from flipping so it's always forward facing and easily identifiable.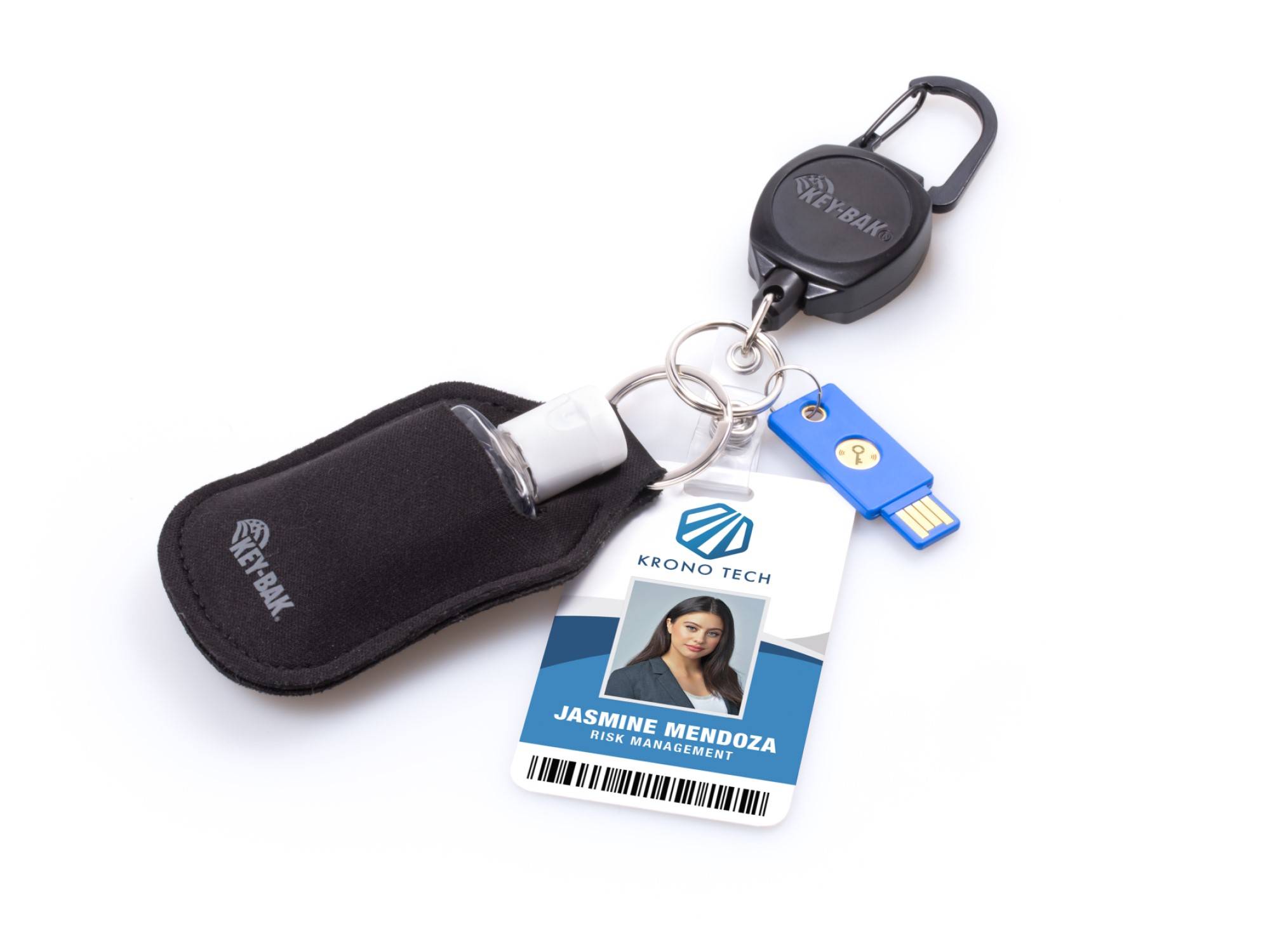 HAND SANITIZER CARRIER
Upgrade your Sidekick to include the Hand Sanitizer Carrier. Paired with KEY-BAK retractable keychains, the Hand Sanitizer Carrier keeps hand sanitizer secure & accessible at all times and can fit nearly any shaped bottle up to 2 oz.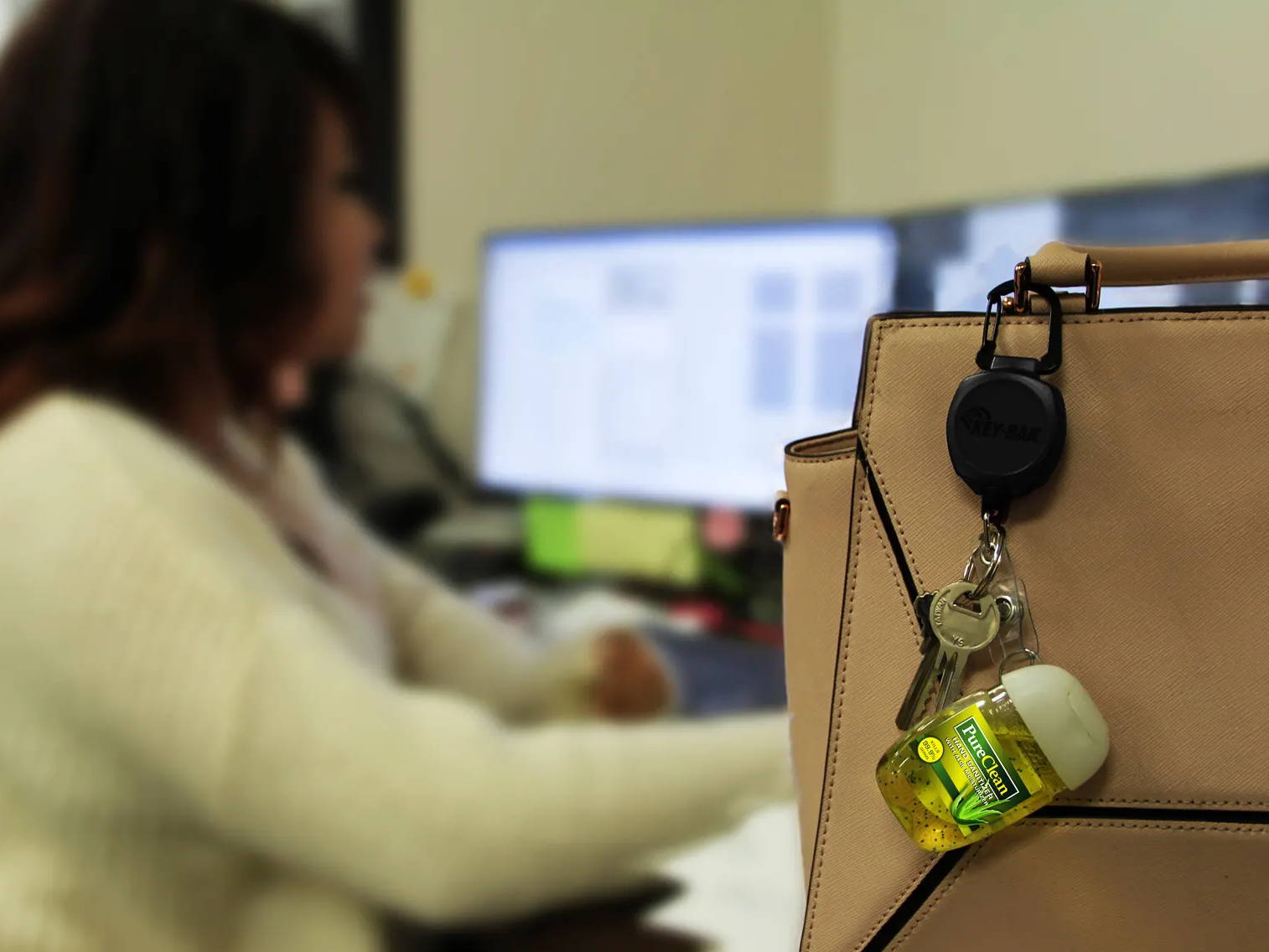 KEYS & BADGE companion
The Sidekick can hold up to 5 keys and a badge, making it the perfect everyday carry companion for working professionals.
How long does thE SIDEKICK reach?
The Sidekicks' retractable cord has a 24" inch reach when fully extended.
What is the retractable cord ON THE SIDEKICK made out of?
The Sidekick's heavy duty retractable cord is made with DuPont™ Kevlar® fiber and has an 80 lb. minimum breaking strength.
How do you attach the badges to the sidekick?
The Sidekick has a Split Ring and Vinyl I.D. Badge Strap. The vinyl i.d. badge fits through an opening commonly found at the top of most i.d. badges snaps closed to secure the badge to the reel. If your i.d. badge does not have an opening to put the vinyl i.d. badge strap through you'll need to use an i.d. badge sleeve to secure your badge to the Sidekick reel.
Is the sidekick made in the USA?
The Sidekick is designed and built with globally sourced materials at our factory in Ontario, CA.
What is the total length of the sidekick?
The Sidekick is 5 inches in length from the top of the carabiner to the bottom of the vinyl i.d. badge strap. The body of the Sidekick is 1-3/8 inches wide and 1/2 inch thick.
WHAT CUSTOMERS ARE SAYING
SIDEKICK® Twist-Free Carabiner Retractable Keychain and Badge Reel That Holds Up to 5 Keys and ID Badge
They're so great, we had to come back for more!
I have bought retractable lanyards before and they didn't hold up.... but when I found this company, and explained the problems we were having with ours, they recommended these. Huge difference! Never a single problem with any of them now! When we ended up hiring more staff, we didn't bother running to the big box store... we contacted this company once again and ordered more!
Very durable
I bought the SIDEKICK® TWIST-FREE CARABINER RETRACTABLE KEYCHAIN on Amazon, which made it easy to verify how long it's been in service. Yesterday while heading to my barn it finally failed. The Kevlar line detached at the keys end. It lasted one week shy of SIX YEARS PLUS ONE MONTH! I used it nearly everyday. New one arrives tomorrow but the local locksmith told me that this retractable keychain may have a lifetime warranty so I'll be looking into that. OVER 6 years and around $10.
wonderful and durable
To be fair, I've only this about a month or so, but so far, it's holding up quite well.
Love it! Wish it lasted longer
As an ER Trauma nurse, I need a badge buddy that can keep up. The SIDEKICK is able to hold multiple badge buddies and keys without drooping. Completely satisfied, but the housing broke in half 2 months after the warranty expired. 4 stars as I wish it lasted longer.
Its ok
It does what its intended to but the tether cord is already wearing out and its not like im using it all day and pulling on it all the time. Kind of disappointed in the quality
Pretty Great
It's nice to have my badge and work key at hand without having to dig through my pockets. Build quality is top notch too. This isn't some cheap crap you get as a freebie from work.
99.9% Awesome
I received a Key-Bak years ago and the clip broke. I finally remembered the name and ordered more. I use it for my scan cards, so I am use it daily. Still love the durability & design. My one small issue is the spring on the clip, it might break again, but I ordered plenty. Other than that awesome product, I like it very much and recommend it to co-workers!
Zip Zip Zip All Night Long
I am a trainer at a very busy steakhouse. I purchased this about a month or so ago and so far so good! It has starting to make this clicking noise when I pull it out but when I checked the string everything seems fine. Here's the real truth though... You have absolutely no idea how much this is pulled in and out, smashed up against walls, chairs, tables and anything else that gets in its way. I definitely don't expect it to last forever and in fact I'm very surprised it's lasted this long!! Anything I've used in the past explodes within 2 to 3 weeks max. I had high hopes this would be a quality product, one that would stand up to the insane abuse I planned on putting it thru and like I said... So far so good!
Under normal use I see this product lasting a very very long time. This is a quality product and I will be ordering a backup or 2 soon and will be recommending this to all new server's.
Best Key Reel For My Needs
You can feel the quality as soon as you remove from packaging. The reel cable, reel tension and the rest are first rate. This is my 3rd Key-Bak purchase. There will be more in the future.