Product Description
In 1981, KEY-BAK invented the first Retractable Badge Holder, the MINI-BAK®, and it is still one of the best badge reels on the market today. Built in the USA, the Mini-Bak badge reel has a strong molded black polycarbonate case and a retractable cord made three-strand braid nylon. Attach your i.d. badge or access cards to the vinyl badge holder and secure the retractable badge holder to your belt, work vest or scrubs. When you need your badge just pull it out, when your done let it go and the built-in tether retracts back into place until you need them again. When you need a reliable badge reel for a badge or two the Mini-Bak Badge Reel is your most durable option.
Features and Benefits
Made in the USA and proven to last more than 1-million pulls
36" retractable military grade type-II braided nylon fiber cord
Protected by a 1-Year Limited Warranty and Lifetime Service Policy
Available with belt clip or swivel clip attachment
Stainless Steel Spring in a 1-1/4" diameter black polycarbonate case
Standard Duty retraction force holds up to 2 oz. and has a 36" reach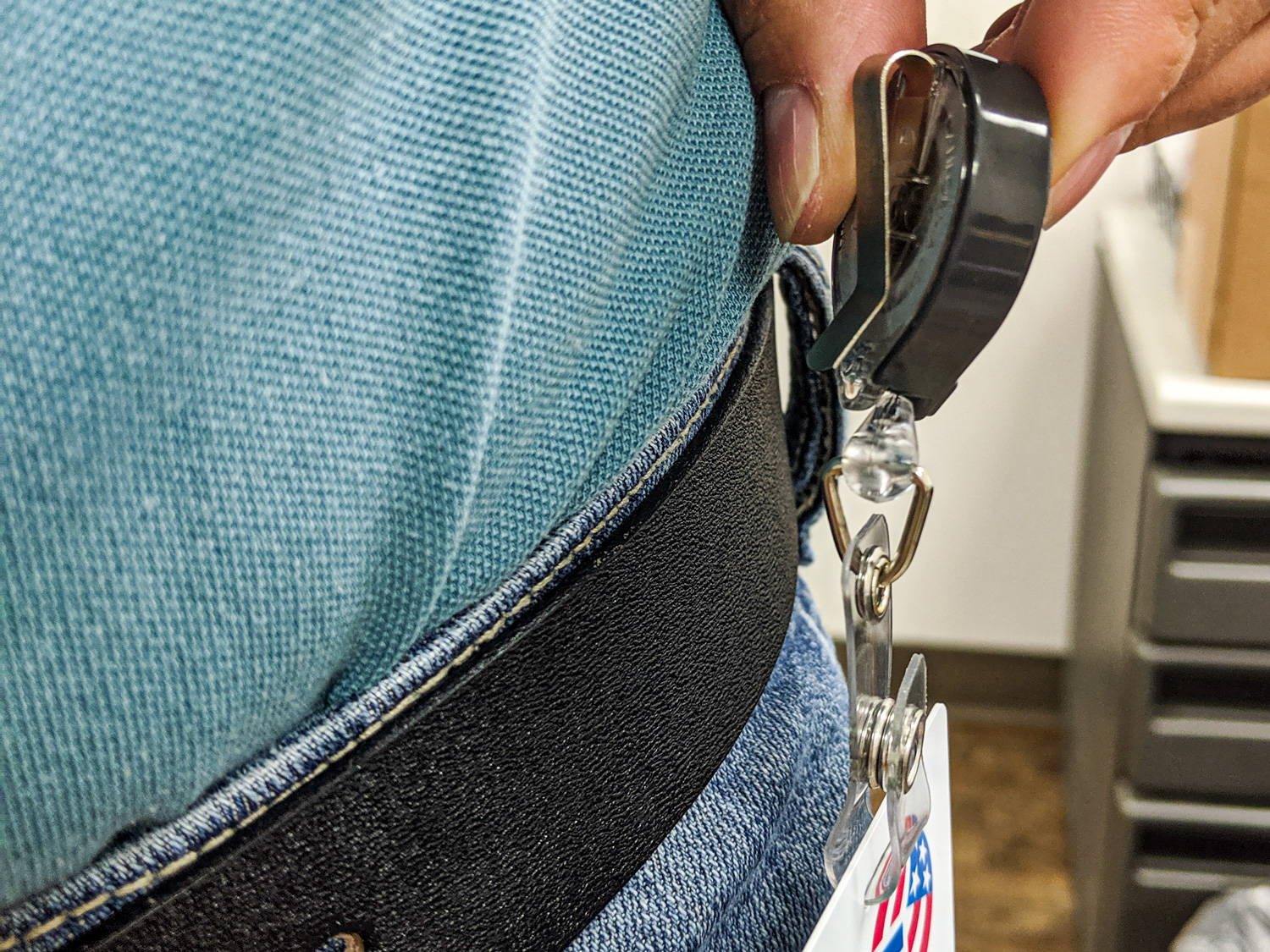 STEEL BELT CLIP
The belt clip on the MINI-BAK Retractable Badge Reel is a convenient attachment option for securing the badge reel at your hip on a belt or on your scrubs. It is made of a durable stainless steel that measures 1.25" long and is heat treated for added durability and resistance from bending out of shape.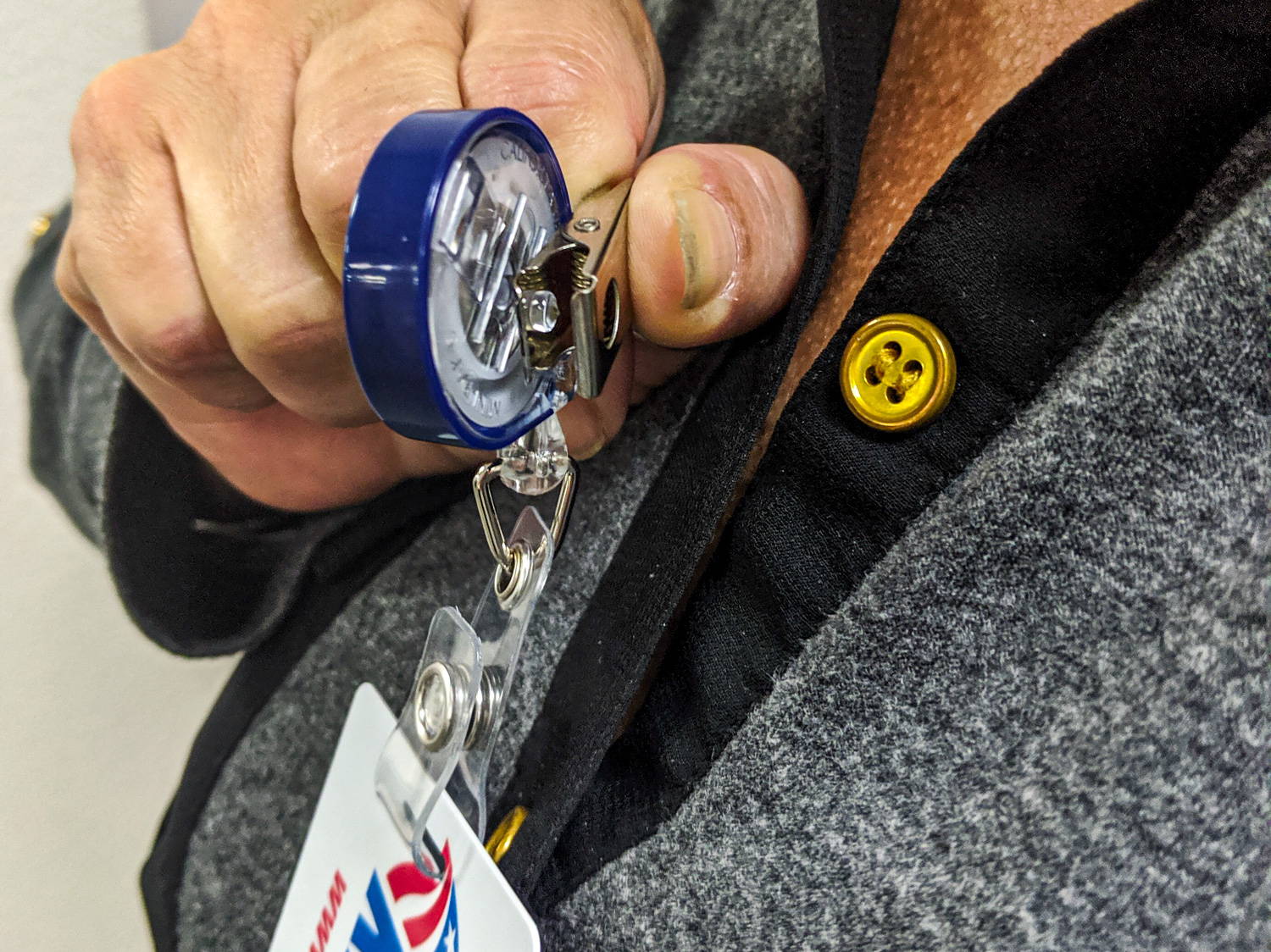 SWIVEL BULLDOG CLIP
The swivel bulldog clip on the MINI-BAK Retractable Badge Holder is a spring loaded clip that opens with a pinch and can rotate 360 degrees. This clip is a popular option because it allows you to secure your badge in visible locations such as shirt pockets, on a shirts v-neck or the pocket of your pants.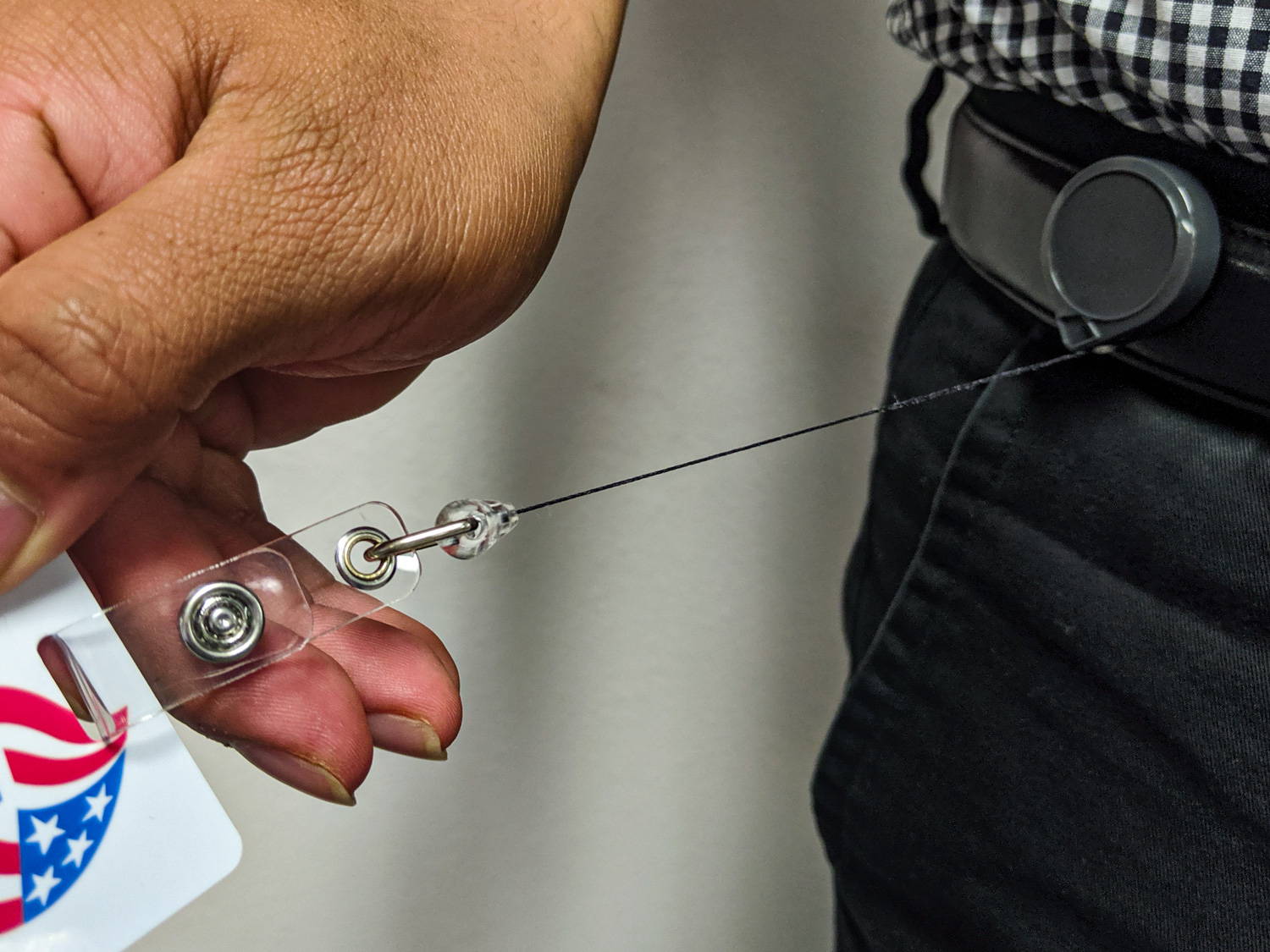 BRAIDED NYLON CORD
The retractable cord on the MINI-BAK Retractable Badge Holder is made out of military grade type-II braided nylon fiber cord and has been tested to last more than 1-million pulls.
How long does thE MINI-BAK BADGE REEL reach?
The MINI-BAK Retractable Badge Holder holds up to 2 oz. and has a 36" reach.
What is the retractable cord ON THE MINI-BAK BADGE REEL made out of?
The retractable cord on the MINI-BAK Retractable Badge Holder is made out of retractable military grade type-II braided nylon fiber cord.
How DO YOU ATTACH BADGES TO THE MINI-BAK BADGE REEL ?
The MINI-BAK Badge Reel has a Vinyl I.D. Badge Strap. The vinyl i.d. badge fits through an opening commonly found at the top of most i.d. badges snaps closed to secure the badge to the reel. If your i.d. badge does not have an opening to put the vinyl i.d. badge strap through you'll need to use an i.d. badge sleeve to secure your badge to the MINI-BAK Badge Reel.
Is the MINI-BAK BADGE REEL made in the USA?
Yes, the MINI-BAK Retractable Badge Holder is designed, manufactured and assembled at our factory in Ontario, CA.
What is the total length of the MINI-BAK BADGE REEL?
The MINI-BAK is 3.5 inches in length from the top of the reel to the bottom of the vinyl i.d. badge strap. The body of the MINI-BAK is 1.25 inches in diameter and thickness varies depending on the attachment chosen.
WHAT CUSTOMERS ARE SAYING
Awesome Product! Made in USA!
Hello,
I ordered these badge reels for my girlfriend who is a nurse. They are very high quality and I'm sure they will last for years. I ordered them specifically because they were made in the USA! As an American factory worker I want to thank you for keeping things like these made in this country! The Wuhan Coronavirus has definitely pulled back the curtain and shown just how much out manufacturing capability has been gutted out in the last 40 years and how dependent we are on foreign entities. So thank you again for continuing to make great products in this great country! My girlfriend who uses these badge reels everyday loves them!
James
USA
Mini-Bak Badge Reel
its ok. the kelvar string seems a little weak. Im only saying this because I had 2 kelvar key ring re-tractors with heavier strings and they both broke
Very good product highly recommend it
This product I would recommend to all my friends
Excellent Product
These reels stand up great. I generally have over 50 pulls a day swiping my badge for work.. I am always swiping my badge and have used these reels as they last longer than other brands. I was always afraid of losing my badge with other brands, but not these.
Good buy
Bought for company ID's works well and keeps them round and safe.
Good Value
So far, has performed well.
Great ID holder
Great little device, works flawlessly, everything I wanted.
Quality seems to have declined
I had an older badge holder that was excellent, until a pet chewed decided to turn it into a chew toy… I ordered a new holder, which was a slightly newer "model" but same product. Unfortunately, it feels flimsier than the old one (e.g. you can hear the plastic creaking when it moves, feels lighter, not put together as tightly, etc.). The new holder broke within a few months with fairly normal use (I work a desk job, nothing industrial or heavy duty). After a bit of negotiation with customer service, I was sent a new badge free of charge. However, this one has the same feel of lower quality than the original new holder. If something was changed in recent years to make these cheaper to produce, I would recommend switching back. I'd buy the old version again any day, but not these new ones. I'll just use the cheap ones provided free at my job.
Not as good of quality as before
I had purchased a badge clip from you once before (Mini Bak), and was quite happy with it. It was complete solid, and felt like it would last for 10 years. Then my cat decided she thought it made a good toy, and chewed it in a way that the spring exploded out. I purchased a second, thinking if I keep it away from the cat it would last me a long time. I am still happy enough with this clip, and it is much better made than the cheap ones provided at work. This one has a clear plastic backing, which is fun, but it does not seem fit together as well or be as solid. I probably wouldn't buy another one just like this, but would buy another of the previous version in a heartbeat.